California regulation burdens businesses with paperwork, costs, rules, penalties
Rated low nationally as a place to do business
Small businesses hurt the most
High taxes, cost of living make it harder to succeed
By Hal DeKeyser
How does California treat businesses compared to Nevada?
According to the California Business Journal, Nevada is the No. 2 destination for businesses exiting high-regulation California, behind only much bigger Texas. It quotes a study trying to determine how many companies are fleeing the Golden State because of its "hostile" attitude toward business, particularly California regulation.
It also notes that electricity prices are among the nation's highest ,and California adds more expense to meet demanding emission goals. And it quotes The Economist about the ordeals of California business people:
"Entrepreneurs who survive the ordeal of gathering all the permits needed to start a business — opening a restaurant can take more than two years in California — are then micromanaged by labor laws telling them when to pay overtime, and how much."
Chief Executive magazine ranked California the worst state for business – for the sixth year in a row.
According to U.S. Chamber Institute for Legal Reform survey, California is 47th among the state for litigious jurisdictions, with one in every four respondent labeling LA or San Francisco as the least.
Small business hurt the most by California regulation
Running a small business? California leads the nation in small business failures, according to Dun & Bradstreet. While one of three small businesses fail in the first two years nationally, in California, that number is three out of four, according to the Small Business Administration.
Warren Meyer, whose company operates campgrounds on public land, showing people where to pitch tents and whatnot, says complying with detailed California regulation takes up more time than growing his business.
"In one year, I literally spent more personal time on compliance with a single regulatory issue — implementing increasingly detailed and draconian procedures so I could prove to the state of California that my employees were not working over their 30-minute lunch breaks — than I did thinking about expanding the business or getting new contracts."
A Mercatus Center paper noted that regulatory expansion between 1977 and 2012 cut the rate of growth .8 percent, which amounted to $4 trillion in GDP.
And it lands harder on small business because they don't have the (expensive) specialized expertise among a small staff to monitor and report compliance for such items as a California regulation regarding desk chairs. That leads to business failure and consolidation. And leaving California.
One Regulation Is Painless. A Million of Them Hurt.
Secondary California regulation and taxes also hurt
A 2017 bill raises gas tax 12 cents a gallon, and diesel by 20 cents. Imagine how much that expense that adds to delivery. And that's on top of already high gas prices, not to mention the hours spent in traffic trying to get anyplace in California.
Often having to pay prevailing wages, which means paying above-market-rate union wages, also hurts. So does the state's lack of a right-to-work law. (Nevada is a right-to-work state.)
According to Forbes and the Pacific Research Institute, the states without right to work laws are the hardest on business, and both the magazine article and an institute study name California the worst state in the union for business growth.
The worst states also impose expensive family leave requirements, harder to navigate land use regulation, costlier workers comp and greater energy regulation. California is included in all of those.
California's Regulations are Harming Small Businesses
The state's newly enacted minimum wage, which grows by statute, also is damaging businesses with low skill workers.
Economists: $15 minimum wage will cripple California businesses
And it's not just the regulators making it tough on California businesses. The state's attorney general promised to prosecute businesses that help in immigration sweeps.
And you're not alone in considering leaving for more fertile business territory:
Wealthy exodus to escape new tax rules worries California Democrats
So how's Las Vegas for business?
So it's worth asking about how easy it is to start or run a business in Nevada.
CNBC ranked Las Vegas among the top 20 metro areas in the nation to start a business, citing features like a friendly tax climate, high quality of life, low cost of living and a "vibrant, educated workforce."
The Kauffman Index of Growth Entrepreneurship ranked Nevada in the top five of small states for entrepreneurial growth.
An article in Inc. quoted Honorsociety.org Executive Director Mike Moradian, said Nevada was an obvious choice for a place to open a second national audience.
"Across the country, companies are vying for the best employee ," he said, "and if you want a leg up on the competition, you need to go where the talent is."
This Is Why Nevada Is the Best Place for You to Start a Business
The article also reported that Payscale rates Las Vegas high for new businesses because of cost of living and for attracting young professionals who want affordable city life. In Las Vegas, real estate is less than half the cost of California, so employees could actually buy a home; traffic is relatively easy and the overall cost of living is much lower than California.
Las Vegas among US leaders for business startup activity
And ask yourself, how would you like to run your business in a place where they actually wanted you to succeed?
They're leaving California for Las Vegas to find the middle-class life that eluded them.
See the entire #DumpCal blog series
Also see:
Vegas home prices jump 14% from last DecemberWhere can you get the biggest house for the dollar?Vegas rated high for a vacation rental investmentLas Vegas jobs growth fuels climbing housing valuesLas Vegas 2018 housing predictions: More homes, higher costs, more newcomersVegas will be best 2018 housing market – ReportLas Vegas master-planned communities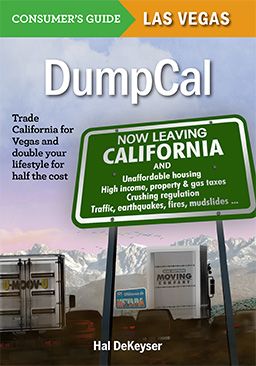 Get the DumpCal book for free — click here or go to DumpCal.com