Californians who move to Las Vegas can get better homes for under half the price, a huge tax cut, much easier traffic and lots more
Housing costs alone are enough reason to leave California for Vegas
Followed by the highest income tax in the nation, and high property taxes
Traffic,high cost of living, earthquakes and other disasters
By Hal DeKeyser
If you're living in California now, you can double your lifestyle on half your resources and reduces hassles and risks by doing so. Here are 10-plus reasons to dump California for Vegas and create a much better lifestyle:
The median house in San Diego will cost you about two and a half times more than the same home in Las Vegas. In Los Angeles, that will cost you even more, and in San Francisco, that house will cost four to five times more.
2. Income taxes are much higher in California
The top state and local income tax rate in California is north of 13 percent – the highest in the nation. In Nevada, the top state and local income tax rate is zero. Nothing. Nevada is one of the few states that has NO income tax.
3. Property taxes are much higher in California
Property taxes are figured by multiplying the rate by the property value. With property values 2½ to 5 times more in California than in Nevada, you pay that much more in property taxes – even at the same rate.
4. Aaaruuuuugh! The TRAFFIC!!!
Los Angeles has the worst traffic in the country, according to the LA Times. San Francisco is tied for third. In both places drivers spend about 80 hours a year stuck in traffic. That's about 40 hours in San Diego, and about 20 in Las Vegas. . Las Vegas is a half-hour city from mostly anywhere to mostly anywhere. What's your time worth? What's aggravation worth?
5. It's easier and cheaper to do things in Las Vegas, and lots to do
California has lots of things to do, if you can get there. Las Vegas is not only the entertainment capital of the country, and it's fast becoming the restaurant and nightlife capital. It's also a great place for the outdoors, with mountains (the lodge and ski run atop piney woods Mount Charleston is about a half hour from Downtown Las Vegas), Lake Mead, the Colorado River and great weather most of the year.
6. The new tax law will cost Californians even more in income taxes
The Republicans' new tax bill limits the amount of mortgage interest that's deductible. It also limits the deductibility of those sky-high state and local taxes Californians (and other high tax state residents) pay. So Californians' tax bite will get larger. Only Nevadans with the most expensive of homes will be affected by the bill.
7. Las Vegas' airport is easy to use, flies everywhere and has the best flight deals
If you have to be at LAX for a 5 p.m. flight, what time do you have to leave for the airport? Las Vegas McCarran Airport is at the intersection of two freeways with easy access to the entire valley. Because it's Las Vegas, airlines fly just about everywhere because so many people (approaching 45 million a year) come through that airport. It's also on almost every airline's deal list because that attracts spontaneous travelers. And two of the nation's least expensive airlines – Southwest and Allegiant – hub therehere…
8. Close to California beaches, Arizona and Utah national parks and an outdoor wonderland of its own
LA is about four hours away; San Diego not much farther. The Grand Canyon and Sedona are about the same. Utah is even closer. And – get this, Angelenos – to get out of town and on the open highway on a Friday afternoon takes about 20 minutes. Try that from Long Beach.
9. Vegas is growing and so are property values
Forbes rated Vegas the No. 1 place for expected growth a year ago, and the Las Vegas valley has been exploding ever since. After getting decimated in the Recession, Vegas has come roaring back, with high growth (among the top 3 in the nation), broadening diversity and low unemployment.
10. Nevada is much better for business than regulation-handcuffed California
According to the California Business Journal, Nevada is the No. 2 destination for businesses exiting high-regulation California, behind only much bigger Texas. It quotes a study trying to determine how many companies are leaving California because of its "hostile" attitude toward business. How would you like to do business where they actually wanted you to succeed?
If you live in California, you know this story. You live with earthquakes, fires and mudslides.
If you want to hear more about Las Vegas vs. California, contact the author at Hal.DeKeyser@gmail.com or call 602-316-6863. Also see www.LiveWellVegas.com for information about housing, communities, and lifestyle in Las Vegas.
See the complete DumpCal blogs
Also see:
Las Vegas jobs growth fuels climbing housing valuesLas Vegas master planned communities3 Vegas communities among best selling in U.S.
Where can you get the biggest house for the dollar?Las Vegas 2018 housing predictions: More homes, higher costs, more newcomersVegas will be best 2018 housing marketIs Vegas in a housing bubble or not?
Get the DumpCal book FREEGo to www.DumpCal.com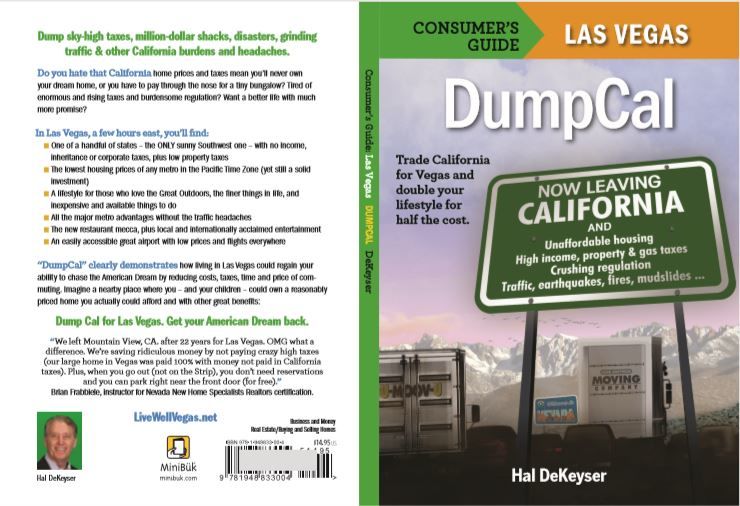 Or …
Click here to get the book for FREE