A new 125-acre gated retirement community will open next year. Del Webb at Lake Las Vegas will offer nearly 500 homes from nearly 1,600 to nearly 2,800 square feet.
Recreation and amenities
It will have the same type of social and recreational amenities that seniors have come to expect in the nation's first big-development retirement community creator. That includes a 10,000 square foot clubhouse, swimming pools, a fitness center and game courts like bocce and the currently popular pickleball.
It will have "private club houses, access to the lake, and a number of hiking trails, biking trails, [and] golf courses" Cody Winterton, executive vice-president of Raintree Investment Corporation, told KLAS. "It's going to be an all-around active adult package for people that are looking to retire here in Las Vegas, "
Recreation and other amenities in Lake Las Vegas include the 320-acre artificial lake, and Italian-themed village, hotels and golf. It's about a half-hour drive from the Las Vegas Strip and the airport.
For those interested in buying a home here, Del Webb hasn't announced pricing but says there will be eight Mediterranean style single story options that will include contemporary technology popular with the retirement audience.
Vegas is the new retirement destination
The Las Vegas area has garnered more attention from seniors and retirees around the country.
A recent survey noted that three parts of the Las Vegas valley were on the top 10 list nationally of places where retirees are moving: Henderson, Enterprise, and Paradise.
Ryan Breen, president Pulte's Las Vegas division, told BuilderOnline that Vegas is a great retirement choice for seniors.
"Las Vegas is recognized among the top real estate markets in the country and is highly sought after by active adult home buyers for its low cost of living, including no state income tax, moderate year-round climate and access to world-class amenities," he said.
Free book on retiring in Vegas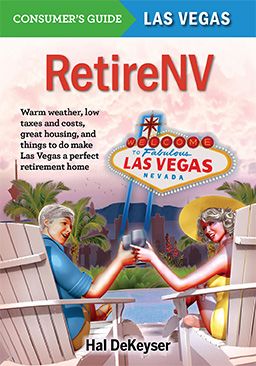 For anyone interested in why Las Vegas would be an attractive retirement destination, a free book on the subject offers an in-dept discussion.
It's called "RetireNV – Warm weather, low taxes and costs, great housing, and things to do make Las Vegas a perfect retirement home."
It takes readers on a journey of a retired engineer who had worked internationally and who created a list of what features he wanted in a retirement location — the entire area, not just the neighborhood.
Those requirements included a low cost of living and low taxes, lots of things to do both indoors and outdoors, easy traffic, a mountain, a body of water, and a great airport with low fares so he could travel to visit kids. He chose Las Vegas.
An e-version is free to those who go to www.RetireNV.com and register.
Also see:
Las Vegas 55+ master list of active adult communities
Henderson, Las Vegas high – or top – on movers' destination lists
RetireNV: Why Dad opted to move to Vegas – a retirement checklist
RetireNV: Why retire in Vegas – Lifestyle, cost of living, weather