If you're looking for a wifi-certified smart home, Vegas views and luxury in the 6,000 square foot range – and you have a million and a half bucks in your pocket – take a drive to a Lennar development inside the gated Southern Highlands Golf Club called Olympia Ridge.
Lennar, which normally plays in the more moderately priced middle class home range, has two model homes amid several offerings that presents what they call the world's first certified wifi home. It includes some traditionally add-on features like keyless entry but also has, through an Amazon partnership, an array of Alexa-driven voice commands that you can assign to set different moods.
For example, say, "Alexa, turn on relax," and the lights dim, the shade drop and the music lowers. In the movie room of one model, the shades will draw, the lights go out and the big screen TV will come on with the "Alex, turn on movie time" command. It reverses with, "Alexa, refresh movie time."
Article: Lennar introduces total wifi also in Irvine
According to a sale representative at a recent open house to show the wifi features, the system is built so it's "future-proof," or so new technology could be added without having to re-wire. The guts of the system are mounted inside the wall in an ample pantry off the kitchen.
When you close on your new home, Amazon White Glove service will come in within 90 days to set the system to your own preference, like which voice commands you want, what those contros and where the speakers and mics are. You can even set outside features up with Alexa, including turning on and off water features, pools lights, other lights and the like.
"I've been waiting for that for years," John, one of the open house visitors told me. "They've had it before, but as an add-on."
Here's how tech can make your life and home better
While the integrated tech features were the reason for the open house, these two homes have a lot more that impress. High if not top on that list are the views. Both models have expansive walk-decks off the second floor, with spiral staircase access to an even higher rooftop deck (Lennar has offered this roof deck feature in much more moderately priced homes in Las Vegas, something that to me seems less useful in practice because of local winds).
The second story decks are fabulous, with access from multiple places and room enough to relax or entertain, particularly on Vegas fireworks nights, like New Year's or Independence Day.
Residence 8, the first model, enters through a front courtyard with a fireplace and stone flooring. Step through the front doors to an enormous two-story great room with a stone fireplace running all the way one wall. The kitchen, with an enormous island, dominates the other end of the room. Off the kitchen is a formal dining room that looks out to the ample patio.
Sliders opening up the great room to an expansive patio can make the room seem even larger and allow a comfortable and flowing indoor-outdoor lifestyle
If you like grand and massive public space, you'll like this model.
Down the hall behind the fireplace is a movie room with the Alexa features described above. Behind that, next to the large patio, is a party service room, a little kitchenette, to the covered outdoors, with a convection oven, refrigerator and dishwasher. One of the coolest features is stacking windows that open up to the patio, providing a pass-through for food, grog and dirty dishes. That opens up to a small bar counter on the patio side (see photo).
The stairs to the second level are so wide that we noted that going up them the first time, and a visitor coming down was compelled to point that out to us as she descended them.
The upstairs has two open walkways to bedrooms and looks down on the first floor great room. One secondary bedroom has a full bathroom right outside, and the other two share a Jack and Jill. There is access to the second-floor deck from the end of one walkway.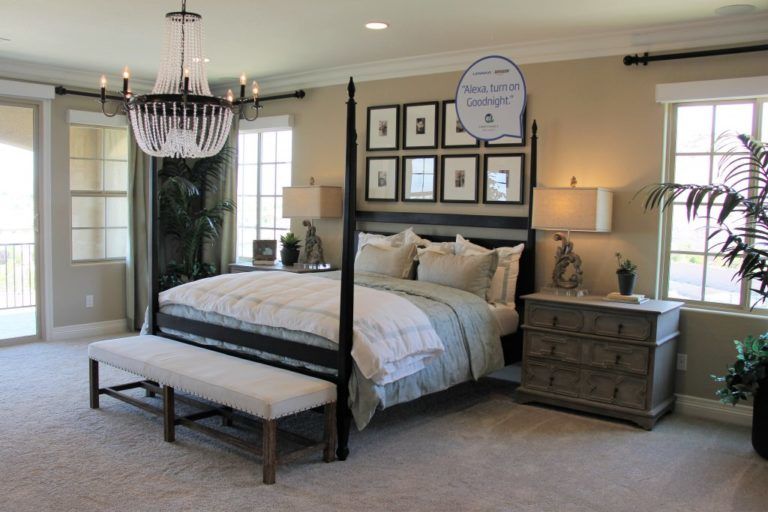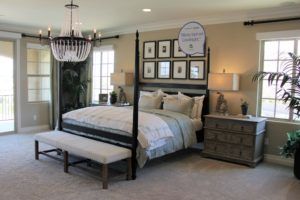 The master, off in the other direction, is large and functional, with a bathroom the size of many normal master bedrooms. It has dual vanities, a large tub and a shower big enough for a basketball team. Inside the closet is a stacking washer-drier combo for quick loads (although the house also has a laundry room big enough to double as a crafts room).
My wife Suzanna noted that this is how you keep the bedroom tidy, with a "proper" closet and vanities
Down the hallway from the master, toward the front of the house, is another bedroom with its own bathroom and smaller walk deck. Beneath it, on the first level, is another bedroom, set up as an office in the model, that opens up to the front interior courtyard.
One visitor described the place to us as "cozy," quite a feat when the house is 6,234 square feet and goes for $1,532,577. When the next phase opens up the hill from these models, expect to pay another $500,000 to $900,000 for even more impressive
view lots.
The second model, our favorite
The second model is slightly smaller, 6,108 square feet, and cheaper, at $1,439,436. The half-dozen or so people who toured both all said they preferred this one, which is more contemporary and angular.
"I think the other house was a tease for this one," joked one visitor.
"I like the feel of it," said another. "It's definitely more unique."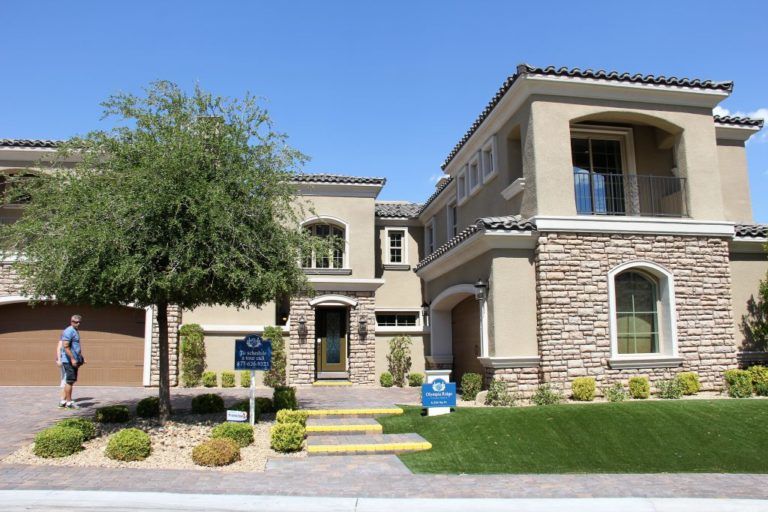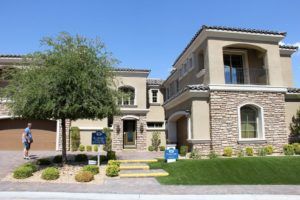 The model, Residence 6, enters through a true interior courtyard with a two story rock fireplace surrounded by outdoor couches. What looks like the front door to the house actually brings you to this place, with high walls on all sides.
But open the front doors, and you're greeted by an entry that looks through to the back yard pool and resort quality views. The water in this model (yours won't come this way, but it's a fabulous presentation) comes within leaping distance from the door to the back yard. It meanders and stutter-steps toward the patio and view fence. It feels opulent and casually inviting at the same time. You almost forget to look at the interior of the house.
But you should.
To the left is the kitchen, dining area and public space that look out onto the patio, pool, yard and Las Vegas vistas through stacking slider glass doors that come together at a 90-degree angle (see photo, below). Conversely, they open up to provide a view unimpeded by posts, frames or anything. You can't get a better indoor-outdoor flow than that.
The kitchen and living area is not as overpowering as the other model, but it feels warmers and cozier, and a bit mid-century modern with the kitchen island set at an angle to the rest of the room. It's grand and comfortable without seeming over the top.
The downstairs master opens to outside and has two closets, the larger with the same stacking washer-drier as the other model. Two more bedrooms, with their own baths, are down the hall.
Upstairs are three bedrooms and a huge loft built entirely for a big party, complete with an angular wet bar and access to two covered walk decks, a (relatively) smaller one at the front of the house plus the major view deck at the back. There's room for a couple of game tables, plus seating area, and its own powder room. It looks over onto the public space below.
The best non-master bedroom is not that big but has patio and view access. Two more are down the hall, the front one set up like a mirrored gym and could be a great office.
Lennar, it's worth remembering, is the "Everything's included" builder, which means what you see is pretty much what you'll get in the house you buy from them. Some features here are not, like the surface of the kitchen island and the upgraded flooring, but it's mostly that way. View lots also will run (a lot) more.
Olympia Ridge by Lennar is at 8 Olympia Drive, behind the Southern Highlands Golf Club gates. You'll need an appointment to see them.
Residence 1 — 4,111 square foot single story, a Next Gen home that goes for $1,188,349.
Residence 6 — 6,108 square foot two-story with six bedrooms, a game room with bar, loft, rooftop deck, five full and two half baths with a four-car garage for $1,439,436. ($1,804,990 in Olympia II, with the grander and higher view).
Residence 8 – 6,235 square feet with six bedrooms, a theater room, five and a half bathrooms, a four-car garage, a view walk deck and rooftop deck for $1,532,577 ($1,900,900 in Olympia II, with the grander and higher view).
Hal DeKeyser, a Realtor with Open Door Residential in Las Vegas, has been a writer and editor appearing in newspapers, magazines, The Associated Press, books and online for decades. His last journalism assignment was managing content at the Las Vegas Review-Journal for magazines, weeklies and Real Estate, automotive, special sections and Best of Las Vegas. He is a licensed real estate agent in Nevada and Arizona and a new homes specialist. Contact him at hal.dekeyser@gmail.com or call 602-316-6863.
Free consumer's guide on buying a new Las Vegas home
Want a FREE advance copy of Hal DeKeyser's upcoming book on how to buy a new home in Las Vegas? It walks buyers through all the steps in the process, from figuring out what kind of home you want to finding financing, shopping the models, monitoring construction to what you do in the first year. It's a helpful guide even for those who have done this before. To get one, simply email Hal.DeKeyser@gmail.com with "I want the book" in the subject line. (No obligation.)